GiveBIG 2016 for Immanuel Community Services on Tuesday, May 3rd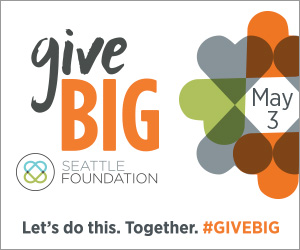 HELP US KEEP OUR DOORS OPEN, THE LIGHTS ON, AND THE WATER FLOWING!
Your support of these basics will help us continue to provide
FOOD for those who are HUNGRY
HYGIENE for those who are HOMELESS
RECOVERY for those who are ADDICTED.
By donating to ICS through our Seattle Foundation profile page between midnight and midnight on Tuesday May 3rd, 2016 ONLY, your donation will be stretched thanks to a special stretch pool from the Seattle Foundation.
The Seattle Foundation will distribute the stretch pool on a proportional basis. So if we can raise 3% of all the money raised that day, we'll get 3% of the stretch pool.
Plan on rallying your friends and supporting your favorite charity ... IMMANUEL COMMUNITY SERVICES as part of our community's biggest day of giving of the year. Then fill out the form to make a donation May 3rd!
Our mission is to alleviate the effects of poverty, hunger, homelessness, and addiction by providing community-based social services to those in need.
ICS Putt-Putt 2016 Fundraiser