ICS Community Lunch
Last Sunday of the month from 12pm to 2pm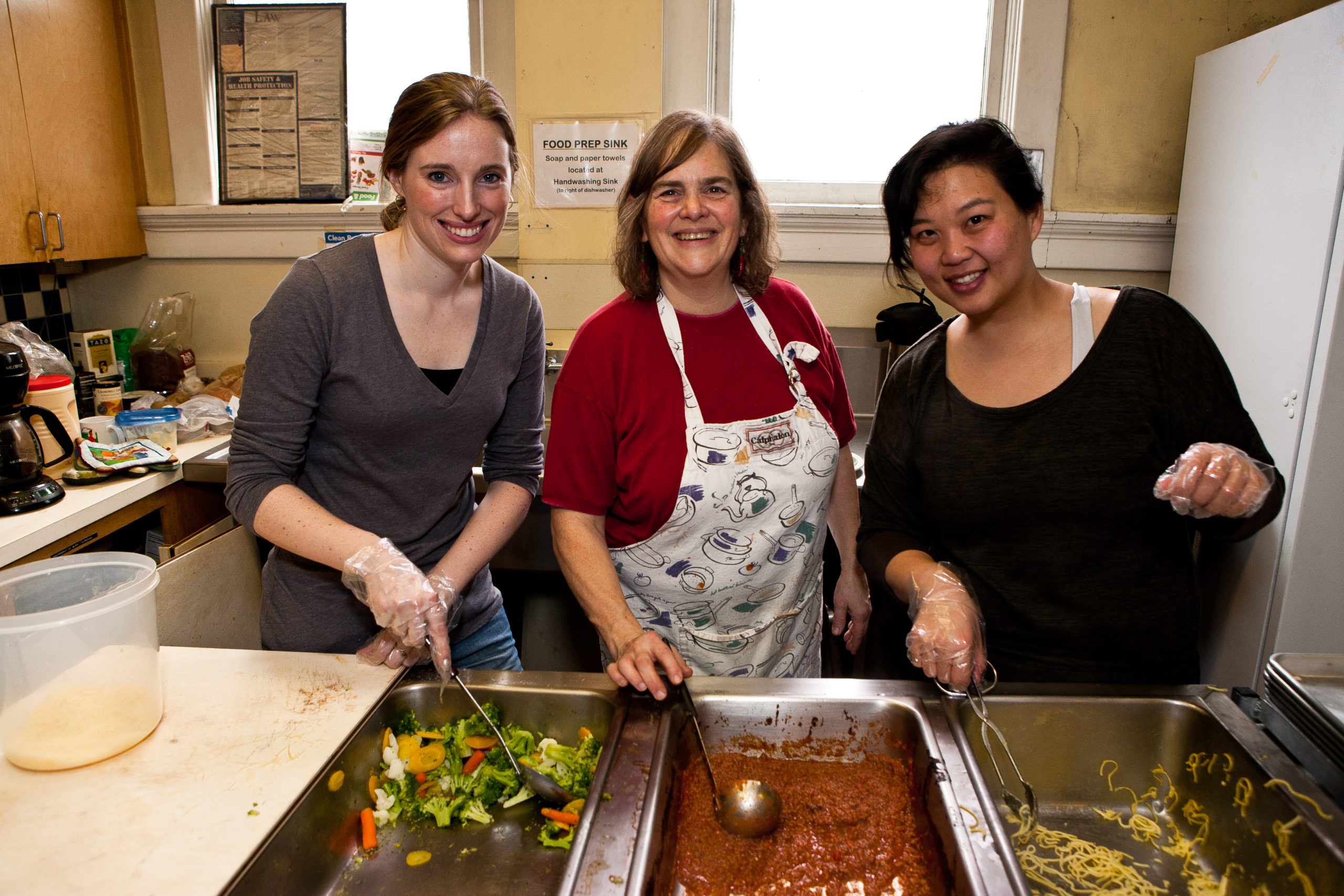 On the last Sunday of each month, we open our doors and offers a hot nutritious meal to anyone who is hungry at the ICS Community Lunch. We serve anywhere from 100-200 diners during this meal …and despite the fact that we never know who will show up, we've always have enough food. The meal is served at the end of the month, when many of our neighbors find that money is a little tight and they need helping putting a full meal on the table.  They come every month, looking forward to a good meal served in a welcoming atmosphere.  As a Community meal, all are welcome to enjoy a healthy delicious meal and great conversation.  Doors open at noon.
Most of the food is donated and we rely on volunteers to cook and serve the meal. Volunteers are needed on Saturdays (to help prepare the meal from approximately 9:00 am to noon) and Sundays (to help finish the cooking, serve the meal and clean up). If you are looking for a meaningful way to give back to the community, this is a great opportunity!
For more information about volunteering at ICS Community Lunch, please email volunteers@icsseattle.org. Both individuals and groups of volunteers are welcome.
ICS in the News…..
No Fast Food at Immanuel's Community Lunch

Seattle Weekly reporter Patrick Hutchinson went "under cover" to experience what it's like to survive a weekend on donated meals in Seattle. His final meal was with us at our ICS Community Lunch.
"It was taco day and the line was massive, wrapping in a U around the room's perimeter. I got in line and scanned the crowd: men and women of all ages; families with kids; the elderly; Americans of African, European, and Asian extraction as well as a large contingent of Native Americans. The line moved slowly, and as I peered at the service window, I could see why. First, the portions were massive: heaps of taco meat loaded on tortillas, with a dinosaur pile of salad. Secondly, there was dessert. A fleet of cake and pie slices awaited those who had just gotten their plate of tacos, and many were having a hard time choosing just one piece. Lastly, the food was being served by kind older ladies, who moved at an understandably slow pace and obviously enjoyed chatting with every person in line as if they were all related and this was just a good ol' fun family dinner."
We are proud of serving hungry people large amounts of good food in a family-like atmosphere! We serve everyone who enters our doors with dignity and respect.
Want to help us keep feeding those who are hungry? Your donation today will put food on someone's plate tomorrow!  DONATE NOW!